Cricket-crazy Indians certainly are very familiar with the word Hat-trick. I was quite surprised early on that it wasn't a popular terminology in the United States, even though it is equally applicable in any general scenario.
Winning awards is always a feel-good thing. When these come about consistently and in large setting environments, it is even better.
This year, Quali performed a hat-trick, or three-peat as our press release seems to suggest, winning the finalist award for the third year in a row. This award by industry media giant TechTarget has a multiple judging tier and has several categories. This year, we were given this for the category of Cloud Native App Development and DevOps, which is certainly the direction where the industry is going.
New Release 9.0 is generally available!
While such awards are welcome, what was even more gratifying was the quality of conversations at VMworld this year. Heading into VMworld, we made a couple of strategic announcements, as the version 9.0 of Quali CloudShell became generally available.
These included the ability to save-and-restore sandbox environments, giving customers the ability to save environments and come back to it at a later stage, giving them the ability to manage resources far more efficiently, thereby saving costs and increasing productivity. The second was around the ability to add flexible cloud provider deployment templates, recognizing that we're increasingly in a multi-cloud world and there may be several clouds other than just the well-known public and private clouds. These announcements were received quite well and resulted in some interesting conversations.
Tech Field Day participation at VMworld Extra
We also got to participate in the Tech Field Day sessions and give analysts a peek into who Quali is and what we do. We went beyond PowerPoint here showing live demos. It was eye-opening for some of the attending analysts and certainly resulted in some interesting discussions towards the end. For those exploring automation and orchestration of their Dev/Test, DevOps, Demo, or Cyber Range environments, I encourage taking a look at the set of these three videos:
An Introduction to Quali by Shashi Kiran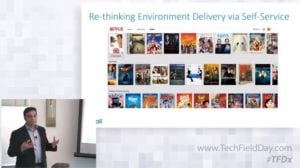 CloudShell Deep Dive by Roni Dover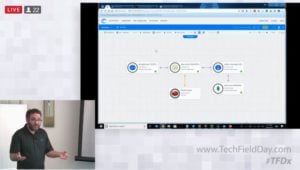 CloudShell Demo and Q&A with Roni Dover and Shashi Kiran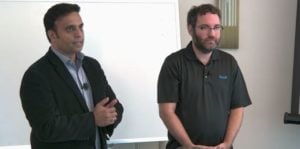 The aggregated set of these videos and Quali's participation are also captured on this page by Tech Field Day.
Webinar on Cloud Security
We also got to participate in a webinar on Cloud Security with a couple of panelists from SaltStack, HGST, and Trace3. Quali's Director of Technical Marketing, Dos Dosanjh, did the honors here.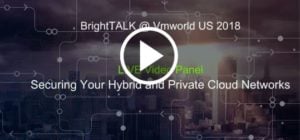 Quali Booth on the Show Floor
VMware as a company is going through a significant transformation as it embraces a world of hybrid and multi-cloud. This is clearly reflected in its products and consequently bringing diverse attendees into the VMWorld event. Traffic to the Quali booth was no different, and there was considerable interest in the wares we were peddling, i.e. how to (in the VMware audience context) set up the fastest, most heterogeneous environments for IT, on demand, and as-a-service. Our theme, not surprisingly, was around environments-as-a-service.
Generally, Quali's ability to orchestrated physical environments, in addition to virtual ones, was highly differentiated, as were its rich modeling capabilities and its ability to support a variety of private, public and hybrid clouds.
In fact, Quali was being used in a couple of other vendor booths on the show floor as well, included at Tintri, to demo their storage solutions.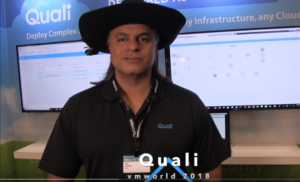 Dos Dosanjh gave a brief overview and demo. The traffic in the booth was quite good and the conversations were great. We couldn't match Team Rubrik's basketball firepower on the show floor, or Team Cohesity's Snoop Dogg party off the show floor, but we'd like to think we were a close second, in large part due to conversation-starting Dos's hat.
Till next time.