The old cliche about walking and chewing gum at the same time sort of has an equivalent among IT organizations: Simultaneously supporting traditional and cutting-edge IT practices. Gartner has helpfully termed this challenging situation "bimodal IT," illustrating the pressures of maintaining existing operations while also laying the groundwork for more agile processes. Essentially, there are two main types of IT under this model, which Bernard Golden has labeled Type 1 and Type 2 (Gartner has identified them similarly as Mode 1 and Mode 2):
Type 1 refers to what teams have grown accustomed to over the years, everything from time-consuming manual processes to siloed relations between devtest and operations. The emphasis here is on stability, safety, accuracy and efficiency, rather than agility.
Type 2 is non-sequential, shifting the focus to time to market as well as the fast-paced evolution of applications. Devtest teams are aligned much more closely with business units to promote collaboration throughout rapid development cycles.
If there is a magic ingredient that can turn Type 1 organizations into Type 2 equivalents, it is probably DevOps automation. With supporting platforms such as QualiSystems CloudShell in place, DevOps provides the cultural and technical frameworks needed to accelerate core tasks such as provisioning, testing and deployment.
More specifically, intra-organizational collaboration gets a boost from DevOps, as does the creation of infrastructure-as-a-service clouds that are tailor-made for DevOps environments. They boast end-to-end infrastructure agility across legacy, physical, virtual and cloud assets, with the cloud-like self-service and automated provisioning needed to support Type 2 IT.
"The bimodal model is correct that a different set of expectations and approaches is probably necessary for IT to respond to this demand, but it does not address the fundamental and enormous change in technology and process required to deliver Type 2 applications," explained Golden in a January 2015 article for CIO. "Stated straightforwardly, Type 2 IT is a DevOps world, and it will require new tools and processes."
Understanding Type 1 and Type 2 applications
The concept of two different and competing modes of IT can be best understood by looking at what types of applications fit each mold. Looking at the Type 1/Mode 1 side in particular can shed some light on why IT groups still struggle with aging systems, a bolt-on mentality toward infrastructure evolution and limited automation.
Type 1 application
An application in this category likely has many components and has been tweaked over the years to include physical as well as virtual servers. It may run a combination of RISC UNIX, dedicated x86 servers and VMware. Connections may be made with Ethernet and/or Fibre Channel as well as with virtual switches. Release cycles may take months and be governed by an application lifecycle management suite, with many constituent teams at work on program maintenance.
"Release cycles may take months with a Type 1 application."
Type 2 application
Consumers have plenty of experience with Type 2 applications, which include popular mobile and Web solutions ranging from Facebook to Amazon - i.e., ones from the types of hyperscale organizations that are now being widely emulated. An application of this kind probably has no legacy baggage and is run instead from a completely virtualized private or public cloud environment. The team behind it is unified as part of a DevOps culture and may use infrastructure-as-code tools, well documented RESTful APIs and plenty of automation throughout all processes.
Cloud and bimodal IT
Cloud is the backbone of Type 2 applications. Infrastructure as code approaches enable the automation and scalability needed to turn infrastructure into a de facto extension of application development processes.
There is a more significant place for cloud management platform and cloud automation tools in Type 1 applications. As part of moving towards an agile DevOps culture, organizations reliant on these legacy applications can implement private cloud IaaS. This allows for a more automated environment with a self-service portal for delivering infrastructure for devtest applications.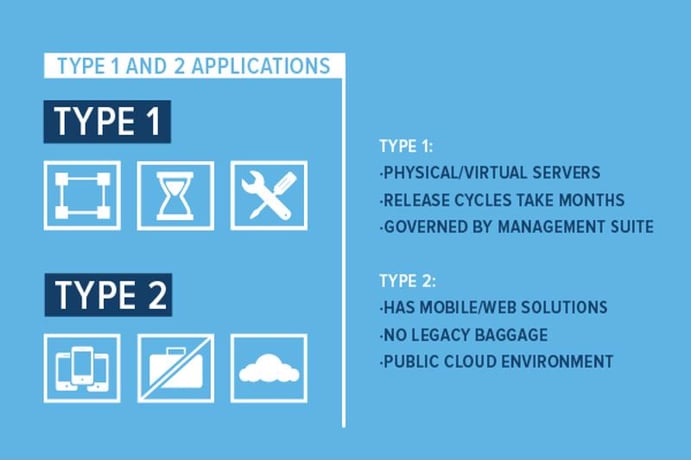 Type 1 and Type 2 applications often seem like they are completely different tracks - because they are.
Overall, private cloud IaaS ideally makes infrastructure available in a fraction of the time required by manual process, while setting the stage for further process improvements such as test automation and continuous integration. Moreover, it is accessible by a variety of team members and acts as a unifying way to standardize, streamline and create reliable, repeatable and faster cycles. Of course, to be useful to Type 1 applications, IaaS must encompass all the legacy infrastructure—not just VMs. As it happens, this is a particular strength of QualiSystems CloudShell platform
The takeaway: Bimodal IT is a useful framework for thinking about the challenges faced by many IT organizations as they try to transition from older applications to DevOps automation. Many mission-critical programs are still rooted in complex legacy infrastructure and waterfall processes, at a time when cloud-only mobile and Web applications have become the preferred means of developing net new applications. Cloud is inseparable from Type 2/Mode 2 applications are powered by infrastructure as code approaches, while IaaS private clouds are essential to make Type 1/Mode 1 ones more agile and efficient. A cloud management platform must address diverse infrastructure to help legacy and traditional Type 1/Mode 1 applications move into the future, and enable DevOps innovation.