Currently, the software-defined data center (SDDC) market is valued at around $22 billion. This industry's rate of growth is set to be positively massive over the next five years, with industry projections estimating a 30 percent compound annual growth rate through 2020; by that time, the market is set to be worth $77 billion.
SDDC represents the next leap in virtualization. An SDDC is essentially a data center facility with a virtualized infrastructure. This means, as noted by TechTarget, resources such as storage, CPU and networking can all be delivered as a service to users. As can be seen by the emergence of advanced solutions like CloudShell, SDDC technology is already here among us.
Summits featuring sector leaders - including the 2015 Software-Defined Infrastructure (SDI) Summit, which took place in December 2015 in Santa Clara, Calif. - are being convened to discuss the rise in the SDDC and exactly what that means for organizations across sectors.
"The SDDC market is growing at a 30 % CAGR."
But not every business can be a part of these summits, and as the SDDC push grows, there are many questions mounting within organizations that have to do with SDDC and how it will play out in the near future. For a business looking to move away from a traditional data center in order to embrace the future-focused solution that an SDDC provides, answers to key questions need to be met before proceeding.
What do we mean by 'data centers'?
Traditionally, we think of a data center as the infrastructure that hosts production workloads. But other purpose-built data centers need to be considered as well: QA "Centers of Excellence", Developer Ecosystem Clouds (like DevNet), Demo and Support centers like WWT's ATC, development and test labs, etc. However, SDDC has yet to truly penetrate these areas and provide the same benefits that other setups and environments are already enjoying. This is largely due to their specific requirements, including their non-production uses cases, that cannot be met by SDDC as we now think of it. With a special kind of software-defined platform like Cloudshell, however, these obstacles can be torn down and even complex data center environments can reap the benefits of an SDDC approach.
Why is the SDDC sector growing so quickly?
There are several key factors that explain why SDDC as a sector is experiencing such a steep upward climb:
Existing interest within IT: There is no question that SDDC is a key object of interest for IT leaders. According to a September 2015 survey by IT Brand Pulse - which polled a collection of IT leaders and influencers - software-defined storage represented the most popular new storage technology that the respondents anticipated evaluating last year. More than one-quarter of respondents said they would be looking to evaluate or deploy software-defined storage in 2015, significantly ahead of 40Gb NAS Systems, Hyperconverged Systems, Object Storage, and others.
Monetary losses associated with traditional data centers: As Market Realist contributor Paige Tanner pointed out in September 2015, the global data center market loses an annual $30 billion or so due to idle servers alone. The losses tied to unused storage can lead to big drains in corporate IT budgets, particularly when IT leaders are not prepared to identify and redeploy unused server space. In fact, this is one of the primary reasons that IT is looking to shift to a self-service model. SDDC offers an unrivaled solution to this issue since its virtualized and scalable nature ensures that enterprises do not need to shell out big bucks in anticipation of storage they might need. Instead, SDDC meets the particular needs of users and is able to scale alongside their growth.
The evolution of IT: The very nature of IT is changing to provide more flexible, on-demand access to resources. In addition, the growth of both private and hybrid cloud has further driven interest in SDDC and the self-service model of IT.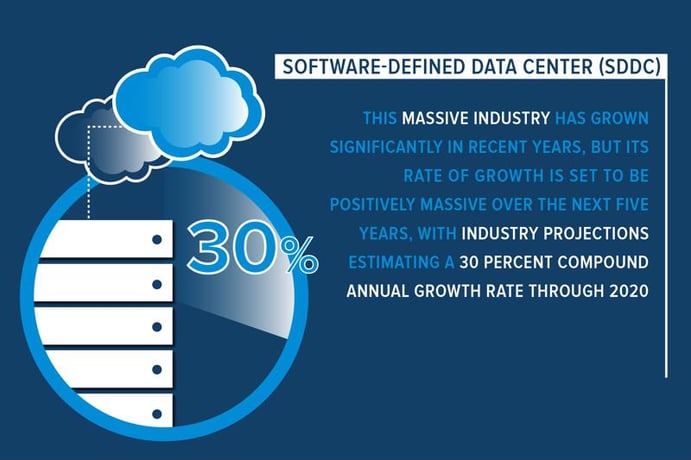 The software-defined data center is a huge industry that's on an even steeper upward climb.
What benefits will SDDC technology bring to an organization?
The array of benefits that an SDDC offers is one of the key drivers for adoption. These advantages include:
Savings: In addition to the many dollars saved from unused hardware, the SDDC offers the potential for IT departments to reap massive savings in terms of operational costs, as enterprise technology expert Joe Maglitta has pointed out.
The potential of these operational savings came through in a study carried out by the Taneja Group in 2014 about the SDDC. The study - which was based on research of more than 450 patron respondents - led the group to surmise that OPEX savings would result from the way the SDDC drives down administrative tasks. As the report stated, "SDDC stands to take tasks that consume 40 percent of an administrator's time annually, and reduce those tasks to less than one percent of their time. That in turn unlocks greater infrastructure scalability and delivery of value-additive IT."
As far as some specific numbers in terms of OPEX savings from SDDC, the report said, "We concluded that SDDC technologies stand to free up a considerable amount of administrator time annually, driving down existing customer operational costs by 56 percent, with the promise to reduce those costs even further in the future."
Unified device oversight: Most businesses today are dealing with an array of devices within their networks. However, it's a smaller percentage of businesses that have the infrastructure to deal with diversified device proliferation. The rest, as industry leader Patrick Quirk pointed out, fall victim to a general sense of confusion at the IT level that arises from "language differences across devices." The issue here is that many IT departments have not yet evolved their operational structure to keep pace with the tech advancements taking place today. This leads to an inevitable absence of enterprise device visibility at the IT administrative level, which impedes IT from attaining streamlined functionality and opens up security risks. Within the SDDC, however, lies the possibility of an unprecedented level of device oversight. As Quirk asserted, the SDDC space is "fueled by virtualization, holistic management platforms and a common, open-language specification for devices."
Security: It is a fundamental misconception to assume that because SDDC involves virtualization, that somehow means it is inherently more vulnerable than traditional physical data centers. In fact, exactly the opposite is the case, argued Tim Chambers, chief technology officer and co-founder of Data City Exchange."SDDCs provide organizations with their own private cloud, allowing them to have far more control over hosted data," Chambers said. This higher level of control means that enterprises leveraging SDDC can make strategic, individualized choices about security instead of having to worry that a provider's security standards aren't sufficient.
General consolidation: Network Computing pointed out that the technology will bring about a general degree of consolidation thanks to the fact that SDDCs revolve around a single layer of virtualization. For organizations operating with outmoded network platforms, infrastructure components can often become hard to manage due to their fundamentally separate nature. But the unification that SDDC brings will ensure that network components whose separation is detrimental to overall streamlined functionality - including data center security and data center storage - are brought together in a way that bolsters business agility and flexibility.
Enterprise-wide impact: Computer Weekly explained that SDDC has the potential to lead to significant benefits that extend beyond IT and encompass flexibility and agility for the entire business. One of the biggest potential businesswide benefits associated with SDDC deployment involves better allocation of IT time. When organizations rely on outmoded network storage solutions, this bogs down IT and can lead to a business's IT leader not being able to make the time for tasks beyond network maintenance. By providing businesses with a highly scalable and dynamic data center model, SDDC opens up the door for members of the IT C-suite to focus on other business-critical functions that might have otherwise been sidelined.
Keeping up with the times: The reality for any organization is that it does not exist in isolation. No matter what your line of business is, you have industry peers and competition, and you're going to (correctly) experience pressure to develop alongside them. It is this principle, as Dana Gardner explained, that doesn't only keep businesses ahead of the curve in terms of tech like SDDC, but also spells some serious issues for the organizations that do not show a willingness to adapt. SDDC is a prime example of a technology that is driving forward momentum among organizations whether they're ready for it or not. The bottom line is to adapt - or else.
In part two of this piece, we will examine more questions that are associated with the rise of the SDDC - including those that surround potential challenges - in addition to exploring what solutions can help pave the way for an effective deployment.
The takeaway: The SDDC market is growing massively and is projected to continue at huge CAGR moving forward. Fueled by significant hype within IT as well as the reality of monetary losses associated with traditional data centers - consider, for instance, the $30 billion globally that's lost each year due to unused server space - SDDC deployments are increasingly becoming a highly appealing option. Among the many potential benefits they offer are cost savings, general network consolidation, and a significant strain off IT leaders, which allows these individuals to focus on tasks that will improve the business.