Yesterday I had the privilege of meeting wonderful people at the Start-up Nation Tech Fair: Highly motivated San Jose State students, Club members and volunteers and high-tech leaders who have contributed their free time to come and socialize with the students, answer their questions and educate them about the tech industry which is booming around them but still at times seems far and unattainable. Start-up Nation org: "The main objective of this fair is to showcase Israeli technology and innovation and provide internship opportunities for students with Israeli companies". Fourteen companies had booths at the exposition floor and four CEOs had participated in a panel.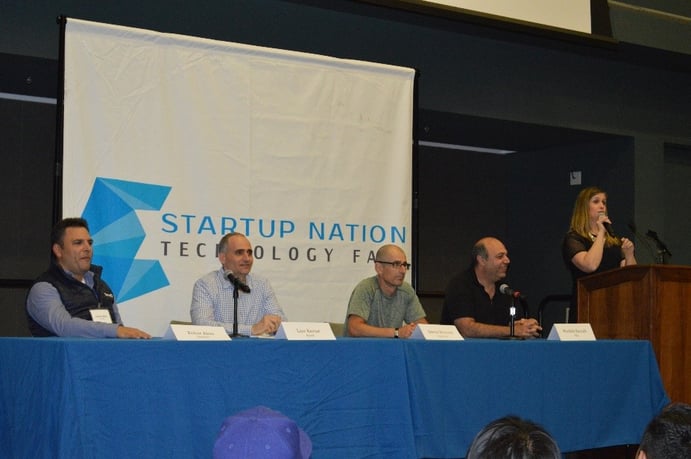 Panel Members right to left: moderator Tal Behar of PMWC, Moshik Raccah of Silo, Doron Reuveni of Applause, Lior Koriat of Quali and Zohar Alon of Dome 9[/caption]
At the panel discussion: "Starting and Growing a Business: Challenges and Opportunities" the CEOs had talked about their background, education, the beginning of their career and the things that have brought them to choose the path they're on: a path of leadership and innovation.
All panelists have emphasized the idea of following the heart and pursuing their dream and passion.

When Tal Behar, the panelist asked about the differences between working in a big company vs. working in a tart-up, all smiled and nodded. Working in a start-up is like riding the roller coaster. It is addictive, there are highs and downs. On the other hand, in start-up you can have a greater influence. Lior Koriat: "Sometimes a larger organization will be able to offer you access to technology and budgets that smaller organizations may not. However, smaller organizations will offer you the opportunity to develop faster in your career because the more you would be willing to undertake, the more the organization will actually give you and allow you to do."
Another question was about the secret sauce of an entrepreneur. The panelists have emphasized the importance of persistence: For each success, there are tens of failures. Lior Koriat: "Always look back and debrief how you could have done things better… Be open and admit to your mistakes and learn from them."
The panel discussion was very interesting and that is thanks to the panel members who were very open and really wanted to give some of their experience to the younger generation. The question I found to be most interesting wasn't about technology or fund raising. It was about the culture of the organization: How do you keep a start-up culture in an organization that is relatively big?
Lior Koriat:" The culture actually starts with and radiates from the founders and the CEO of the company. You have to make sure that you broadcast it throughout the organization, especially when opening new branches and new sites. This is why I moved here six years ago, because you cannot build an organization with the culture you'd like to have without migrating that DNA into that territory. You need to hire people that fit the culture in your organization and they will help you instill that DNA".
After the panel session, the students had the opportunity to visit the companies' booths and mingle with their representatives.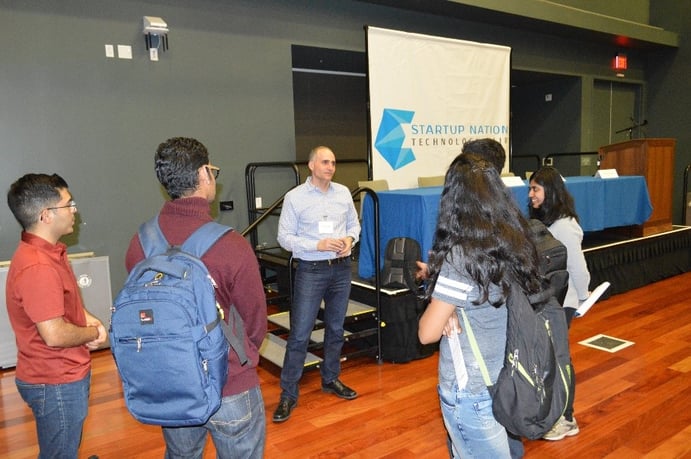 Sharing the wisdom- Lior Koriat with students[/caption]
I wish I had this kind of an opportunity, to meet with market leaders, when I was a young student not too many decades ago 😉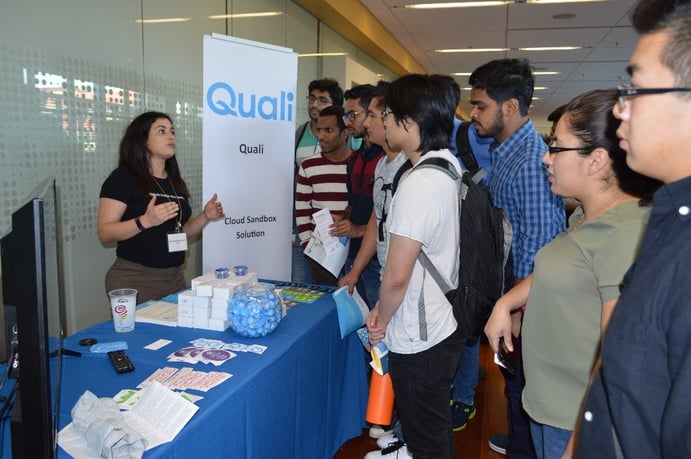 Quali booth at the fair
Are You Ready to Know the Start-Up Nation Up-Close and Personal?